Interview with David (Stoney) Stone, our newest Life Member
Friday, August 28, 2020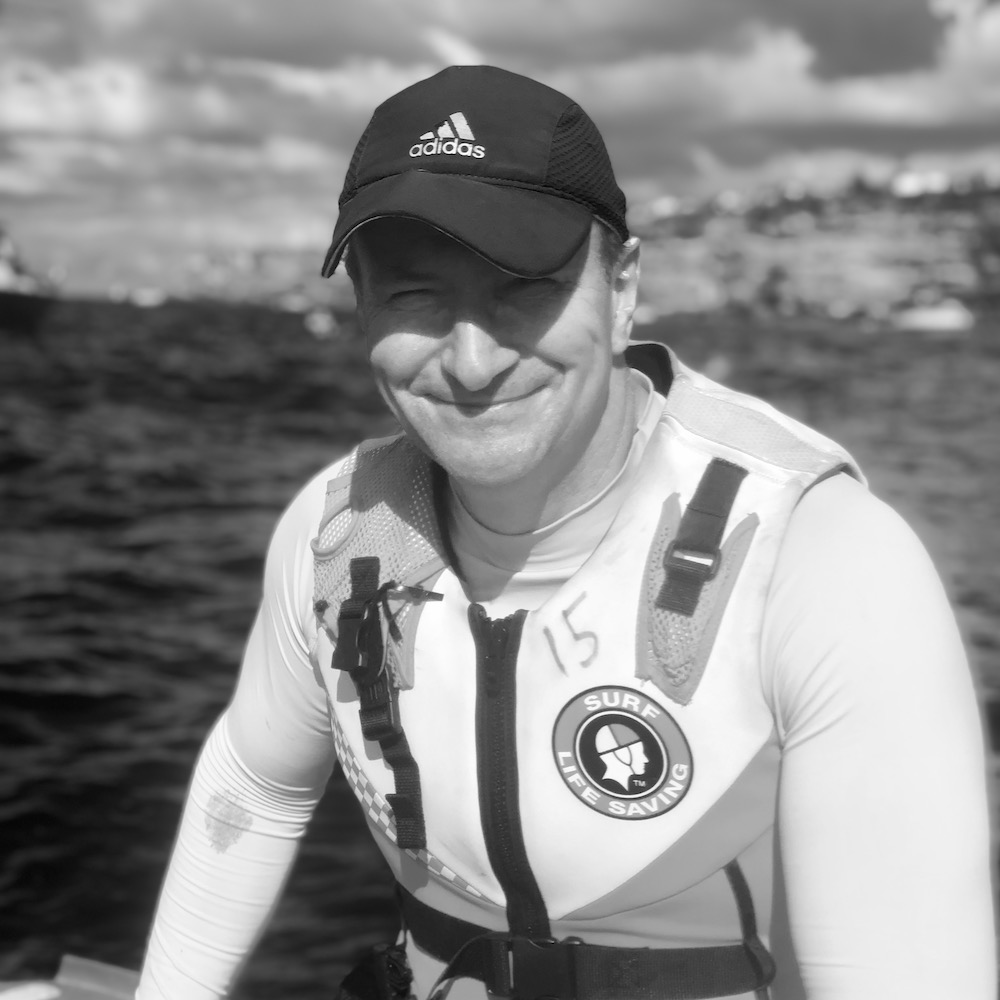 Today we would like to introduce you to another club legend and now Life Member, David Stone. With 19 Seasons, 44 Awards and 1,988 patrolling hours under his belt (ed. That equates to 124 hours every season whilst most of us struggle to get past 50 in a season) David (Stoney) Stone is truly an inspiration to us all. These days you will mostly see him driving the IRB but you may also catch him taking on some waves with a rescue board.
Hard to miss the fact that you are not from 'round these parts' originally Dave! So where did you grow up and were you always a beachy person?
I grew up on a council estate in the East End of London, a Cockney, the youngest in a family of 9. I must have had an affinity with the water because I do remember spending much of my summer holidays in the local swimming pool for hours each day. I first saw the ocean when I was about 8 years old – Southend On Sea – which I later found out was really the Thames Estuary not the ocean!! It would be like Bronte with no surf, pebbles instead of sand and water that was an oily grey colour, and cold very cold – but I loved it 😊
Dave what brought you to Bronte SLSC and the decision to do your Bronze in 2001?
I arrived in Oz in '91 and did a few different jobs in the Southern Highlands before moving to Bronte in '92 and lived in a dodgy flat below ground level with roaches that were that big you turned the lights on and they just stared at you! But it didn't matter because on my very first day in that flat, I walked down the Cutting car park, past the cliff face and saw Bronte for the first time. I couldn't believe I was so lucky to live so close to this beautiful beach that had everything- a pool, waves, grass…That was the beginning…
Then, when my son Sam turned five, there was only going to be one place to do Nippers. In those days the standards were "different". The kids went in the water whether the beach was open or closed; the water safety was a combination of gifted and in my case 'ungifted' parents. It was amazing to watch the kids grow in stature and experience as they trained in bigger and harder surf conditions. The only thing that was more amazing, was that the parents doing water safety managed to avoid drowning every week 😊 The lifeguards once told me that by the time the kids turned 9 they were more worried about the parents trying to support than the kids.
Dave Fleeting and Nigel Harvey felt it would be a good idea to run bronze programmes for nipper parents and so, my epic journey at Bronte SLSC began and continues to this day.
Needless to say the standards are much higher now: risk assessment, IRB's, bronze holders all ensure our kids train safe!
Clearly you are not only an inspiration to us but also to your son Sam as he also is very active within the club – that must make you proud?
Club member of the year this year and Director of Education for the last few years is a big commitment for a younger person, along with active patrolling – it makes me proud for sure. I am also proud that he gives up his time for the community and that he is part of a big team that enables others to be trained up for their Bronze and enjoy the challenges that brings. The club standards across all areas of education and skills continues to rise and rise, this is due to many people and Sam is a part of that group.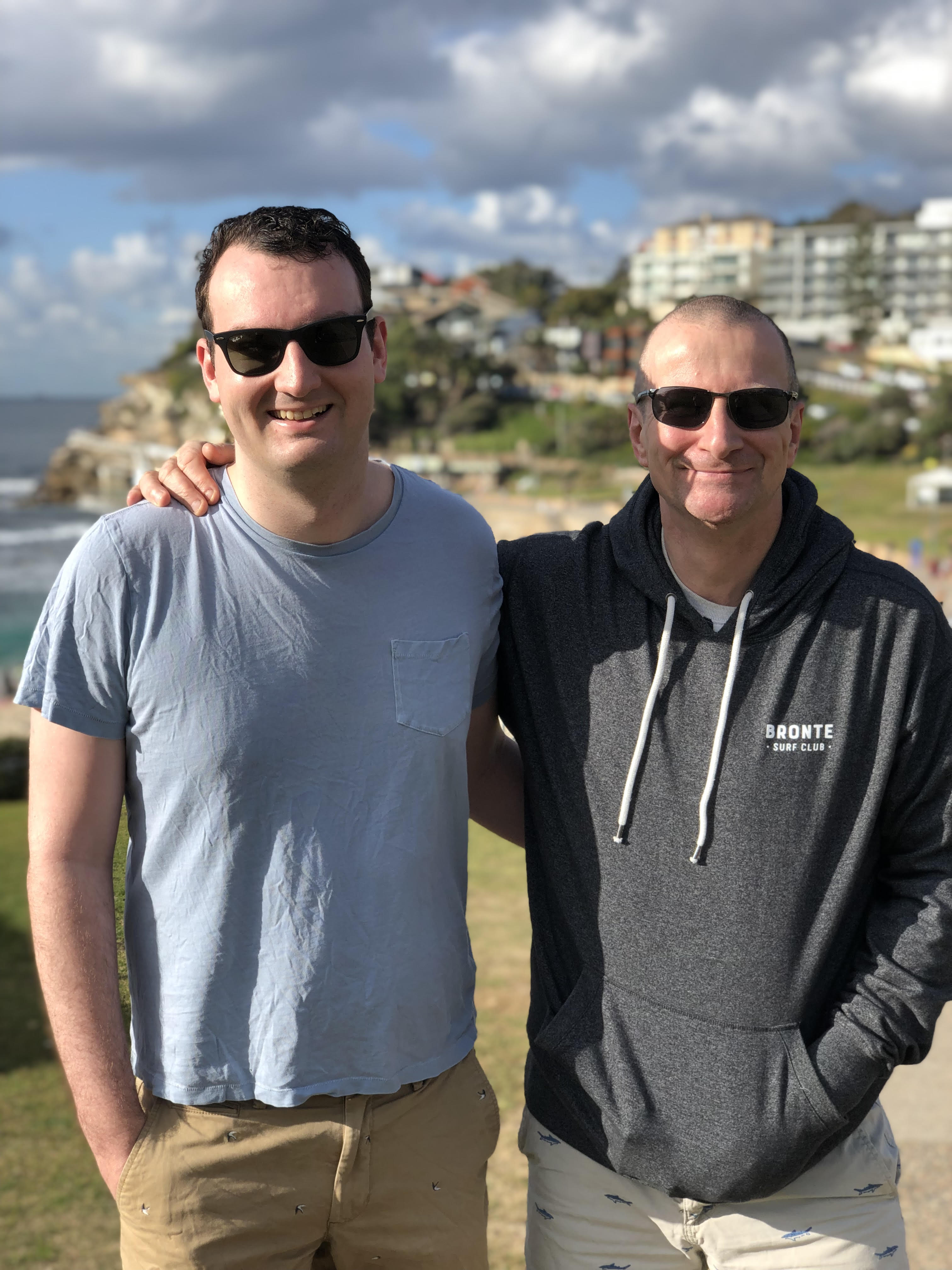 When you are not at the Club where would we find you?
I am usually found fixing the house – my wife calls it "pottering", it is of course more than that! 😊; eating out – I like food; or running - sometimes for hours on end, all over Sydney, usually starting at the Club.
A little bird tells me that you are a long-distance runner – what has been your biggest race and what's next on the bucket list?
I started running over a decade ago with a commitment to run one marathon. In the way I attack most things I went straight for the marathon, no 3 or 4 half marathons to build up…My first race was the 45Km 6 foot track. About 20k in, after crossing a river, climbing a monster hill I sat down and thought I couldn't go on, sat for about 5 minutes while I searched my head for motivation and there it was – I couldn't allow my only marathon to be a failure I couldn't give that memory and example to my family so up I got and carried on. The brain is amazing at giving you reasons to continue.
For a number of years I averaged 3 to 4 marathons a year - I once did 4 in 12 weeks, and then expanded into ultramarathons.
My longest run was 105km but I've managed all sorts of distances – 60kms, 70kms. It's all about your head space: one foot in front of the other.
I was injured for a while for about 18 months but now I'm back, my ultimate goal is a 100 miler – may be elusive but the training has started for September 2021.
I'm sure there are loads but what is your most memorable moment/rescue?
Sometimes things happen quite casually, I was out the back with the lifesaving cap on ( I am a big fan of keeping them on and this is one reason why), just catching waves and floating around – a medium day not terribly dangerous. I saw a guy looking at me strangely while he held on to what appeared to be a child size foam body board. Asked if he was okay- he spoke a little English and evidently he wasn't. I said wait for a wave and then I pushed him on the wave, he abandoned the board and panicked. I started to tow him in - no gear, a one handed drag, I signalled, then he said to me "I can't do this" and put his head under the water to give up…a bit of struggle and a few choice words with him…we got him in…he was ok….he came back later with a very nice bottle of red.
What keeps you coming back time and again?
It's a great service and a great club with people who care about the community and each other, who aren't afraid to challenge themselves. It is people giving up their time to train others, who push the standards so the public can get a better and better standard of service. It's the ocean as a leveller and a bond. People are a product of their environment, the Club is an amazing environment to be in, we are all better for it and we all play our part in ensuring it is so.
What advice would you give to anyone thinking about joining the club or upskilling?
Do it, sure you can come up with hundreds of reasons or excuse why you couldn't or shouldn't but the club has trained people of all shapes and sizes, ages and capabilities when they start out– consider me, when I joined as a 100kg plus Pom with little surf experience. In terms of upskilling I have NEVER undertaken a course and felt worse off at the end of it. Get stuck in and 100% the more you put in, the more you get out with Surf Lifesaving.