Graham Ford AM Inducted in Surf Life Saving Hall of Fame
Friday, September 11, 2020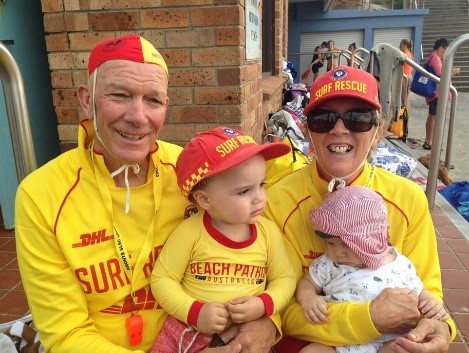 Graham Ford AM, Bronte SLSC, NSW – Surf Life Saving Australia Hall of Fame induction 29th August 2020.
Graham started his illustrious career in Surf Life Saving [SLS] as a Nipper parent with his QC undertaking water safety at Bronte SLSC in the late 1980's and in 1989 was the secretary of Bronte Nippers and the following year Nipper president. Gaining his bronze medallion in 1992 he has maintained a 100% patrol record at Bronte for over 28 years. Graham continued his stellar record with Bronte, becoming club captain in 1997 then president in 2000, a position he held for 11 years. Graham is currently the Patron of Bronte SLSC since 2011.
Graham was recognised at Branch level as Volunteer of the year and Member of the year, he was also recognised further at state level as SLSNSW Volunteer of the year in 2006. Along -side Graham's numerous state and branch awards, he has also massed 121 national awards, including Life membership of SLSA in 2017. Graham was appointed to the SLSA Board of Development in 2006-2011 and Director of the Westpac Southern Rescue Helicopter Service in 2009-and is currently the Chairman of the service. Graham was appointed a Director of the SLS Foundation in 2014-current.
As president of SLSA, a position he has held for 10 years Graham has always led by example, a leadership mantra he developed from spending so much time on the frontline on our beaches with our volunteers and external stakeholders.
In 2011 Graham initiated the Federal Government Parliamentary Friends of Surf Life Saving, which meets quarterly in Canberra for an update on surf lifesaving activities around the country and presents the National Rescue of the Month. In 2013 Graham lobbied the then Prime Minister and other senior ministers to introduce direct funding to all Surf Clubs around Australia through the Beach Safety equipment Fund of $5,000 per Club per annum, which is still current. Throughout the period 2014- 2018 Graham lobbied and met on numerous occasions with senior Federal Government Ministers including the Prime Ministers', Treasurers', Ministers' of Health, Ministers' of Sport, the Attorney General and senior Government members, to secure a commitment to multi-year funding of Water Safety in Australia which is now in place. In 2016 Graham also secured $10 million in funding for SLS vocational training from the then Treasurer.
In 2014 Graham initiated the establishment of a "Corpus Fund" for Surf Life Saving Australia to raise $20 million by 2020 to ensure the future sustainability of the Surf Lifesaving Movement resulting in $23 million being set aside in the Corpus Fund in November 2019..
On the international stage Graham was elected President of the International Life Saving Federation [ILS] in 2012 receiving the ILS - Certificate of Merit in 2012 and 2016.In 2014 Graham was awarded an IOC "Medaille D'Honneur" for his contribution to "Global Sport for Development".
In 2019 Graham was made a Knight in the Order of Lifesaving of ILS for his contribution to Global Drowning Prevention and Water Safety particularly for his efforts in the growth of lifesaving activities in the African Region.
Graham was awarded Member of the Order for Australia AM in 2015 for his leadership contribution to Surf Life Saving.