Dippers Season Wrap up
Friday, April 8, 2022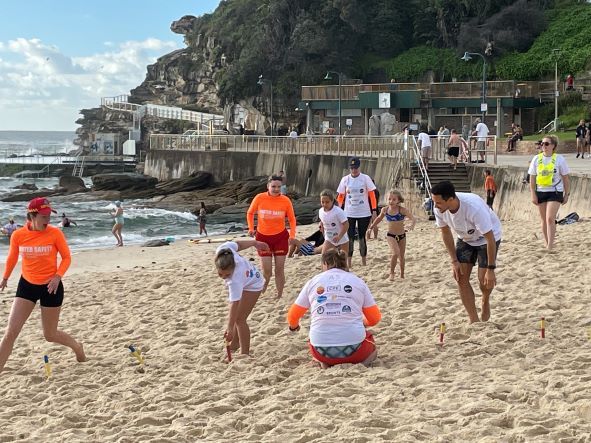 Sally Snow, Dipper (& Nipper) parent
Thank you Bronte! What an amazing past two months this has been for our girls Sophie & Holly and for all the families in the inaugural Dippers program at Bronte surf club.
Finding inclusive extra-curricular actives for kids on the autism spectrum or any disability for that matter, is especially challenging. In our experience, after searching for options, we've often had to revert to private lessons when it comes to sporting activities for the girls, usually with one on one support. This has been great in developing skills, but they do seem to miss out on the social and community element that neurotypical kids are involved in.
From day 1 of Dippers, you could instantly feel the support from the moment we stepped on the beach. We had one of the girls bolting straight for the surf and the other becoming overwhelmed by the crowds and noise. But there was no judgement, just agile volunteers who were keen to make the experience great for the kids. As the weeks went on, we saw increased structure and familiarity of the routine, with the girls taking part in all the nippers favourites - tug of war, flags, sprinting and boards. Holly is also well prepared for a lifeguard rescue should the occasion ever arise!
But without a doubt, the best thing about the program was the people that made it happen. Starting with Bronte's very own Gaby who was the driving force in getting Dippers off the ground, along with Ash from Autism Swim. It was incredibly touching to see how many volunteers there were there on the first day and who continued to show up each and every week (often in ordinary weather), to try and give these kids meaningful experiences and a true sense of belonging. All the volunteers not only showed amazing patience, but were also incredibly respectful and kind. They asked questions and were open to suggestions and feedback, trying to learn as much as they could about the kids they were teaching. In turn, the kids were receptive and completely engaged in learning new things in a safe, fun way. To give you an idea of what competent hands our kids were in, during week 7 of Dippers, my husband Nathan and I were ushered off the beach to go and get a coffee together! A very rare occurrence for us!
We also had some very special siblings on the beach across the program, my youngest daughter included. It was great to see entire families out on a Saturday, doing something together, very much in the spirit of the Bronte community. This was what I was most proud of, being a member of this great club that includes some very special people wanting to make a difference and help others.
We can't wait to come back later in the year for next season. We've even been asked to consider if the girls would like to join the regular age group nippers on a Sunday (with extra support of course). This gesture in itself means more than you'll ever know. Parents with children on the spectrum long for these invitations/considerations, to be part of something that everyone can enjoy together and unfortunately, they are all too rare. It's great to see Bronte leading the way in creating a more diverse club that can adapt to all circumstances and find a way to make great things happen for our kids.
Go Bronte!