3rd Week @ Bronte Nippers
Tuesday, October 29, 2019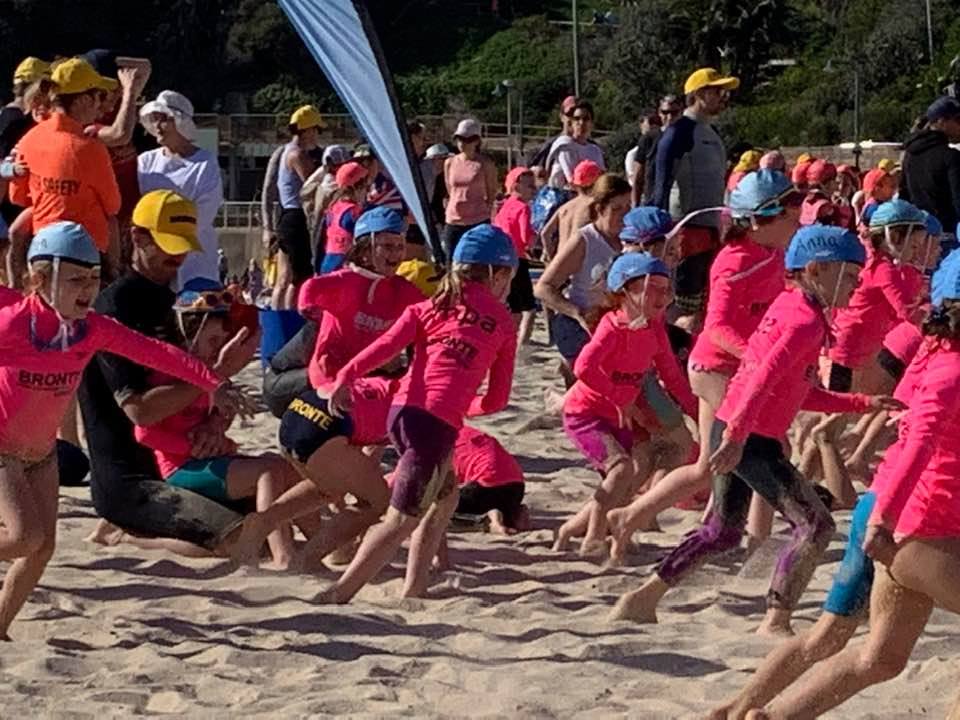 Another beautiful, wild morning down at Bronte!! Well done to all our kids who completed their ocean proficiencies while the beach was open.
Thanks to all our new nipper parents who came to the New Parents' Induction evening on Thursday. It was lovely to meet you and we look forward to seeing you in your yellow caps over the weekends ahead.
This coming weekend we have Club Champs Round 1. Fingers crossed for warm water and calm surf!
CLUB CHAMPS, this Sunday 8am - 11am (U8-U14)
Note the 8am start time for everyone U9-U13 and regular 9am start time for U8. We ask our U14's to be there by 7.45am to do their sprint race first at 7.50am. Normal nippers at 8am for U6 and U7.
This is Round 1 of two club championship mornings where normal nippers gives way to friendly competition within each age group. Each group will make their way through sand and water events over the course of the morning. Top 6 place getters will be allocated points. The top points holder in each age group over both rounds of club champs will be the season age champion. Carnival rules apply so no wetsuits are permitted and nipper caps and pink rashies are compulsory.
Bronte runs Club Champs just like a regular carnival so we will need officials and water safety on board to assist. Set up begins early (from 6.30am) so please come down to help out if you can. If the surf is too big, sand events will go ahead and we will complete the water events next week. As U9's have not yet gone out on the boards, we will only run their board races this week if the surf is flat. Otherwise, we will run this particular event during normal nippers on a more appropriate Sunday.
U10s: CLUB CHAMPS SPRINT TRACK SET UP/PACK UP
We need some volunteers from our U10's age group to help set up & pack up the sprint track on Sunday morning:
U10 boys are on sprint track set up at 7am. We need 4 volunteers. Please let your age manager know if you are available.
U10 girls are on sprint track pack up around 10am.
WELCOME TO BRONTE SUNDAY SIPS, Sunday 3 November, 4pm
This Sunday we're hosting a special 'Welcome to Bronte' Sunday Sips and we'd love to see as many new parents as can make it! Wear your yellow cap to receive a free drink.
BBQ
We expect big numbers this week with Club Champs. Please make sure the BBQ has all the volunteer power it needs.
Age groups allocated to BBQ duty his week are:
U7 boys: 8am-9.45am
U10 boys: 9.45am-11am
WAVERLEY SHIELD, Sunday 17 November (U8-U14) at North Bondi
The Waverley Shield is a friendly carnival between the surf clubs of the Waverley Council. It's a great morning and we encourage all U8-U14s to give it a go. It will replace normal nippers for these age groups.
As with all Carnivals, we need every family to help out in some way: transporting tents, setting up tents, unloading and packing up boards etc. We also need plenty of officials (our quota is 16) as well as water safety (our quota is 12). Each age group will be allocated a specific task to assist with the smooth running of the day. Please stay tuned for details from your age manager next week.
TEAM APP
Nipper related communications are sent via TeamApp and we recommend that all nipper parents download the app to stay abreast of nipper activities. Once you have downloaded TeamApp, search for 'Bronte Nippers' and request access to the groups relevant to your family.
CLUB ACTIVITIES
We'd love to see you at any of the informal Club gatherings and activities throughout the week:
Sunday Sips, 4pm each Sunday upstairs - special 'Welcome to Bronte' Sips this week
Sunday afternoon running group at 4.15pm (run to Bondi and back)
group board paddle for qualified bronze medallion holders on Sunday afternoons at 4pm
Wednesday morning group swim at 6am outside North Bondi SLSC
pilates with Harries on Tuesday and Thursday mornings at 6am ($10 cash)
NIPPER TRAINING
Nipper training continues this week. We hope our new trainees are learning invaluable skills and that any nippers curious to give it a go can make it along this week. Note that the free trial period ends this week and fees are payable by all participants from 1 November.
Here are the details:
sand training: with Jordan Williams at Bronte - Wednesdays 3.45pm-5.15pm
beginner boards for U9 and up: with Jo Mermaid at Bondi - Tuesdays 4.25pm-5.30pm
development squad boards: with Mackenzie Gavin - Tuesdays 4.25pm-5.30pm and Saturdays (time TBA via TeamApp) at Bondi;
competition squad boards: with Jason Gavin - Tuesdays 4.30pm-5.30pm at Bronte; Saturdays (time TBA via TeamApp) at Bronte. Participation in this squad is at the discretion of Jason Gavin. It is for nippers who wish to compete. Each session is 4km-5km.
Communication re sand training is via Bronte Nippers TeamApp. Communication regarding board training is via a separate TeamApp page: 'Bronte Board Trng'. Please request access to the groups relevant to you.
BOARDS - purchasing
All nippers who participate in board training need to purchase their own board. Fibreglass boards are categorised by weight. When purchasing a fibreglass board, aim for your child's weight + approximately 5kg. For example, if your child is 38kg, purchase a 45kg board. If they are in U11 and need the board to last 2 years, you may consider a 50kg board. Board brands include: Kracka, JM and Bennett.
Secondhand boards: there are plenty of second hand boards available on Gear Trade. There is also a facebook page named 'Second Hand Surf Craft, Surf Only' which advertises boards.
Bronte board buy-back scheme: the Club offers a buy back scheme for foam boards. This means you can sell your foam board back to the club for $350 after 1 year, and for $250 after 2 years if it is in good condition. The Club may also buy back fibreglass boards at market value.
Board rental: our strong preference is for nippers to purchase their own boards. There are a limited number of boards available to rent for $100 per season. You must join a training group and return the board for nippers every Sunday. Please see Craig Betts on Sunday morning to arrange.
TRAINING FEES
There is a modest season flat-fee for any training of $150 per child. Training fees are payable now via this link: SLSA Online Payment Gateway
Please use the following:
Transaction Type: Other (from drop down list)
Description: nipper training for [full name of nipper]
Amount: $150
OFFICIALS COURSE
We're still seeking new officials! Bronte kids cannot attend nipper carnivals unless Bronte officials also help out. If your nipper intends to compete at the Waverley Shield, Branch or any other carnival, we ask that at least one parent becomes qualified as an official. The tasks are not complicated - marshalling the kids, judging the finishing line and recording results. Straightforward, enjoyable and you'll secure yourself the best spot on the beach with your nipper!
The qualification process involves the following:
-an online theory course you can do at home
-practical experience assisting at Bronte Club Champs on 3 November
-a practical assessment at Waverley Shield on 17 November (or a Carnival later in the season) which involves shadowing an experienced official.
Please email Jess Stewart to get started: jcrstewart@gmail.com
WATER SAFETY: WORKING WITH CHILDREN / SKILLS MAINTENANCE
All water safety, age managers and assistants are required to submit their Working With Children (WWC) number to the club by 31 December 2019. Please email it to Victoria at office@brontesurfclub.com.au.
All water safety need to complete their skills maintenance by 31 December 2019. The refresher course this year is terrific (and compulsory)! See details here: https://brontesurfclub.com.au/proficiency
SWIMMING
The surf at Bronte is tough and our nippers need to be confident in the water in order to be safe, as well as to progress and enjoy themselves. If your nipper is not doing weekly swim lessons or squads, we strongly encourage you to sign them up. There are many great local swim schools and clubs that cater for all levels, for example UNSW Swim Club (ph: 9385 4881) and Des Renford Swim School (ph: 9093 6300).
BRONTE FUNDRAISING
The Club is busy fundraising for a new clubhouse and any donations to these efforts are most welcome! Please see here for details: https://brontesurfclub.com.au/make-a-pledge