First week at Nippers
Tuesday, October 15, 2019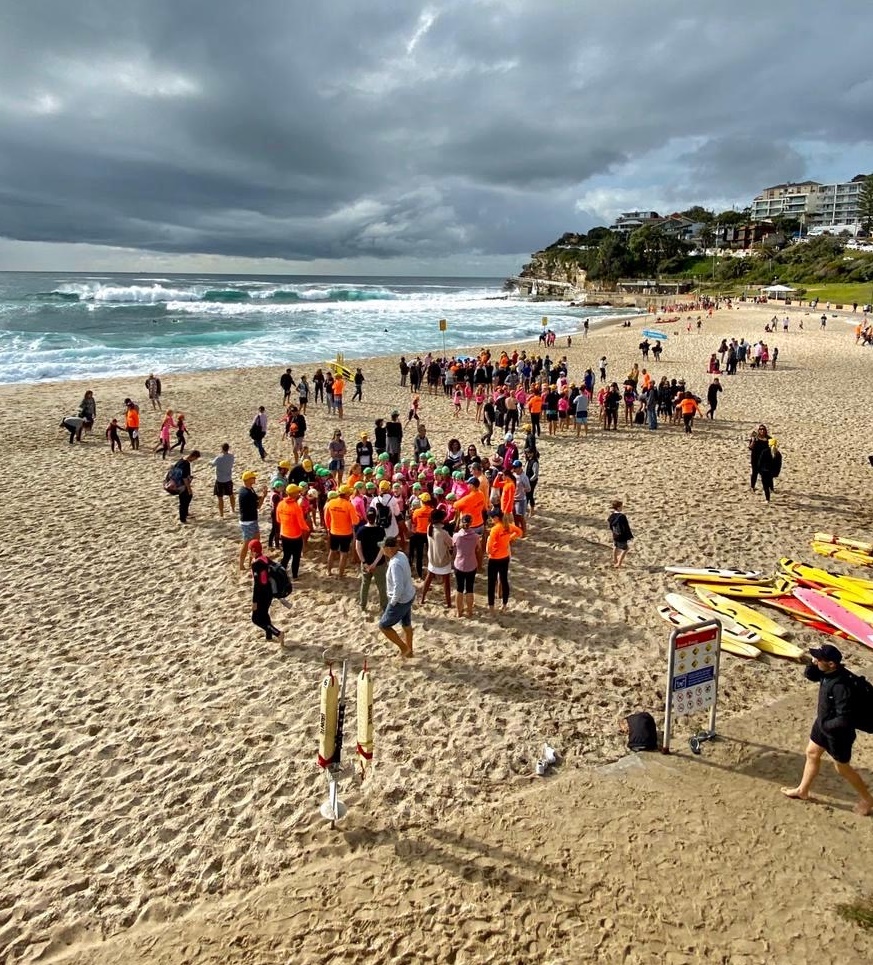 A very warm welcome to all our Bronte nipper families for the 2019-20 season!! It was terrific to see a mix of new and familiar faces at the beach on Sunday, participating with enthusiasm in spite of the challenging conditions. We look forward to seeing you all next week, hopefully accompanied by sunshine and calm surf!
Below is some useful information about nippers at Bronte. It's information heavy this week, but please take note of the things relevant to you.
TEAM APP
Nipper related communications are sent via TeamApp and we recommend that all nipper parents download the app to stay abreast of nipper activities. Once you have downloaded TeamApp, search for 'Bronte Nippers' and request access to the groups relevant to your family.
NEW PARENT INDUCTION EVENING, 7pm Thursday 24 October
Nippers at Bronte is a family activity where parents join their children on the beach each Sunday. Our volunteer age managers will lead the groups, but we need plenty of parental involvement to make it all happen.
It is compulsory for each nipper family to have at least one registered parent. Only registered parents may help on Sunday mornings on the sand or at the water's edge.
New parents must attend the Parent Induction Evening where you will receive an introduction to the Club, learn about important safety requirements surrounding all aspects of nippers, and find out about areas in which you are able to assist. At the meeting you will receive a yellow 'Beach Crew' cap that must be worn on the beach each Sunday to help identify you as a nipper parent.
NO CAP, NO RASHIE = NO NIPPERS
Nipper caps identify kids on the beach as nipper participants, as well as the age group to which they belong. Nippers must wear their age cap for the duration of their session every Sunday morning and remove it as soon as the session concludes. Please mark your child's first name in thick, black permanent marker on both sides of their cap so that they can be easily identified and communicated with.
Children not wearing their nipper cap will not be able to participate in any of the group activities on Sunday morning.
Nippers in U8 and above must also wear the high vis pink rashie. Nippers not wearing a high vis rashie will not be allowed in the water.
BBQ DUTY
Each week the nipper BBQ cooks up a delicious feast for hungry nipper families! As with all nipper activities, the BBQ is run on volunteer power and we need plenty of willing parents to pitch in. Each age group will be allocated to assist on a couple of Sunday mornings throughout the season. We ask that all parents not otherwise volunteering as age managers or water safety help out on the BBQ during your age group's allocated shift.
This coming Sunday the following groups are scheduled for BBQ duty:
U9 boys: 8am-9.45am
U11 boys: 9.45am-11am
WAVERLEY SHIELD, SUNDAY 17 NOVEMBER, U8-U14
The Waverley Shield is a competition between the Waverley Council surf clubs and is held at Bondi each November. The Waverley Shield is a great introduction to competition for younger and/or new nippers and a good warm up for those who are more experienced or more competitive. We will need plenty of parents, Water Safety and Officials to assist. The Waverley Shield will replace normal nippers for U8-U14 on Sunday 17 November and we encourage all our nippers to have a go.
OFFICIALS NEEDED
In order for our nippers to be permitted to compete at carnivals, we need to provide Carnival Officials. One Bronte official is needed for every 10 Bronte competitors and we are currently running short! If we do not have enough officials, we will be forced to withdraw competitors. If your child is intending to compete at carnivals, we need one parent to help out as an official. This is your chance to help out at carnivals with a front row seat to the action. Contact Jess Stewart if you can assist: jcrstewart@gmail.com
WATER SAFETY: WORKING WITH CHILDREN / SKILLS MAINTENANCE
All water safety, age managers and assistants are required to submit their Working With Children (WWC) number to the club by 31 December 2019. Please email it to Victoria at office@brontesurfclub.com.au.
All water safety need to complete their skills maintenance by 31 December 2019. The refresher course this year is terrific (and compulsory)! See details here: https://brontesurfclub.com.au/proficiency
COMPETITION: NIPPER CARNIVALS
Throughout the season nipper carnivals are hosted by various beaches, generally on Saturday mornings. They are open to all interested U9-U14 nippers and with the exception of various events at the NSW State Championships, no pre-qualifying is required. Competition culminates at the end of the season with the Sydney Branch Carnival at Maroubra on 9 February and the NSW State Championships at Swansea from 28 February - 1 March.
There are both individual and team events at carnivals. These include:
sand racing: 70m sprint; sprint relays; flags
water racing: swim race; board race; surf team (team swim race); board relay. U11 and above can also compete in ironman, board rescue and cameron events.
U8's can compete at some carnivals. Their only water event is the wade race.
If your child is interested in competing, we strongly encourage you to let your age manager know and to sign up to the relevant training squads (see below). Bronte has a fantastic group of competitive nippers who train together and attend carnivals as a team. Enthusiastic new faces are most welcome.
NIPPERS TRAINING, U9-U14
The Club offers terrific training for Nippers who are interested in improving their skills and representing Bronte at nipper carnivals. There are 3 levels of board training squads: Beginners, Development and Competition and a sand training group. Those participating in board training will need to bring their own board, goggles, and wear their pink rashie.
Communication in relation to these squads is via TeamApp. The board training groups have their own TeamApp group: search 'Bronte board trng' and request access. For Sand Training, join the Sand Training Team via the Bronte Nippers TeamApp page. Access is available to nippers who have paid their training fees (see below).
There is a modest season flat-fee for any training of $150.
Training fees are payable now via the 'Payment Gateway' on the Bronte SLSC website. Please use the following:
Transaction Type: Other (from drop down list)
Description: nipper training for [full name of nipper]
Amount: $150
If you're new to training, feel free to come and try a session for free before 30 October.
There are a limited number of boards that can be borrowed for the season for $50, but you must join the training group and see the office to register. Please see Craig Betts on Sunday morning to arrange. Alternatively, the Club runs a board buy-back program for foam boards. New foam boards cost approximately $450. The Club will buy back any boards in decent condition for $300 within 2 years of the original purchase.
Board training
BEGINNER SQUAD starts this week with Jo Mermaid, 4.25pm Tuesdays at Bondi (meet at water's edge to the left of Bondi SLSC). This is for nippers U9 and up who are new to boards and/or would like to receive instruction in how to paddle, negotiate the shore break and build confidence. Please RSVP via TeamApp. This week we will have boards available from the trailer (to be returned immediately after, rinsed down).
DEVELOPMENT SQUAD with Mackenzie Gavin, 4.30pm Tuesdays at Bondi and Saturdays (time TBA). This squad is for competent swimmers who can paddle a board in and out of small surf. It is not a beginners squad.
COMPETITION SQUAD with Jason Gavin, 4.30pm Tuesdays at Bronte and Saturdays (time TBA) at Bronte. This squad is intensive training for those at an advanced level who will represent Bronte at carnivals throughout the season. Participation in this squad is at the discretion of Jason Gavin.
Sand training starts this week with Jordan Williams, 3.45pm-5,15pm on Wednesdays at Bronte. Meet in front of the Club and bring joggers and a water bottle.
SUNDAY SIPS & SOCIAL ACTIVITIES
Sunday Sips is held upstairs at the Club every Sunday afternoon. So if you're new to Bronte SLSC, new to nippers or if you've been around so long you're part of the furniture, join us at the Club from 4.30pm for a drink, dinner and the all-important badge draw. Catch up with old friends, meet some new faces and let the kids run off some energy on the sand with their mates.
Additional Club activities we'd love to see you at include:
Pilates with Harries at 6am on Tuesday and Thursday mornings ($10 cash)
Sunday afternoon running group: meet at 4.15pm for a run to Bondi and back
Sunday afternoon group board paddle for qualified bronze medallion holders at 4pm
BRONTE FUNDRAISING DINNER - SILENT AUCTION
As you know, the Club is busy fundraising for a brand-new club house. As part of that, we hope to see many of you at the (sold out) Bronte Promenade dinner on Saturday evening!
The silent auction is open to all - you don't have to be at the dinner to bid. Please see the Auction Items here: https://airauctioneer.com/bronte-promenade-night
WE CAN'T WAIT TO SEE YOU DOWN AT THE BEACH!!
Nippers Committee:
| | | | |
| --- | --- | --- | --- |
| Craig Betts | Marc Braun | Al Visch | Mary Rowbotham |
| Jessica Stewart | Jason Gavin | Anthony Burrows | |