9th week @ Bronte Nippers
Wednesday, December 11, 2019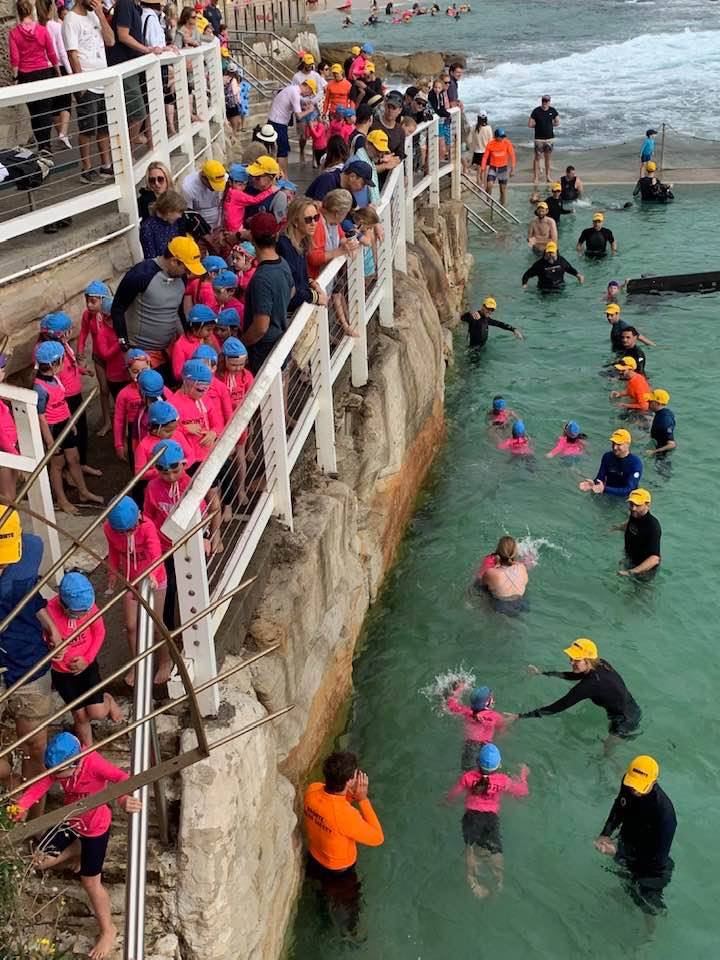 This Sunday is our last nippers for 2019 and Santa plans to visit us in celebration! Santa will arrive around 9am with icy poles for all nippers.
Nippers will resume on Sunday 19 January. We wish you all a terrific holiday.
BBQ
The following groups are responsible for running the BBQ this weekend:
U6 boys: 8am-9.45am
U14 boys and girls: 9.45am-11am
OHANA RESULTS
Congratulations this week go to all nippers who attended the Ohana Surf Classic at Elouera SLSC on Saturday! Many thanks to all the officials, water safety and parents who helped out. Here are a few of the great results achieved:
U9: Jade Visch: silver medal, individual swim.
U10: Evan Rowbotham, Sam Wolfe, Geoffrey Gibbons & Eddie Johnson: gold medal, beach relay; Evan Rowbotham: gold medal, beach sprint
U11: Harrison Nixon: gold medal, individual board; Flynn Visch: silver medal, individual board; Flynn Visch: gold medal, individual swim; Harrison Nixon: silver medal, individual swim; Flynn Visch, Harrison Nixon, Ben Wilsmore & Aston Lake: silver medal, surf team; Aston Lake: silver medal, 1km beach run; Lewis Leyland: bronze medal, beach sprint.
U12: Lily Rowbotham: bronze medal, 1km beach run
U14: Leila Gaston: gold medal, individual swim; Leila Gaston: bronze medal, individual board; Kate Wilsmore, Leila Gaston, Lily Skeete & Chloe Braun: silver medal, surf team.

STATE CHAMPIONSHIPS, Swansea 28 February-1 March 2020, book accommodation / alert age manager ASAP
Nipper State Championships will take place at Swansea Belmont SLSC again next year from Friday 28 February - Sunday 2 March. There will be much information in the lead up. However as the event attracts thousands of nippers, we strongly suggest you book your accommodation nearby as soon as possible. Note that a large Bronte contingent will stay at the Apollo International Hotel in Charlestown and there will be a group dinner there on the Saturday evening.
For those new to nippers or new to competing, State Championships is open to all U9-U14 nippers and with the exception of a couple of events, no pre-qualifying is required. That said, State Championships is highly competitive and we encourage only those who train regularly to attend. It's a fantastic long weekend - please consider joining the relevant Bronte training squads if your nipper is interested.
For those who know they will be going - please confirm your uniform size with your Age Manager today as the order will be placed this week.
UPCOMING CARNIVALS
There are a number of nipper carnivals coming up:
Manly Nipper Nats at Manly, Sunday 19 January
Australia Day Ironperson at North Cronulla, Sunday 26 January
Wanda One Carnival at Wanda, Saturday 1 February
Branch Nipper Carnival at Maroubra, Sunday 9 February
We expect a large Bronte contingent at all of these carnivals and we strongly encourage those intending to compete at State to sign up for Wanda and Manly. The Branch carnival will replace normal nippers for U9-U14 on 9 February and all are encouraged to compete. Please let Victoria in the office know as soon as you can if you wish to attend: office@brontesurfclub.com.au.
As always, if your nipper would like to participate, be prepared to volunteer as water safety or as an official. Quotas apply for each.
NIPPER HOLIDAY CAMPS
An intensive holiday nipper camp provides a great introduction to ocean skills for the younger and newer kids, and consolidates and builds on the experience of our more advanced nippers. We have a camp for everyone! Please see details below.
Jo Mermaid Nipper Camps: for beginners to intermediate, we highly recommend Jo Mermaid's nipper camps which she runs throughout the holidays. Please see here for details: http://www.mermaidswim.com.au/session-category/surf-sports/
Bronte nippers holiday camp for U9-U14: for our developing and competitive board paddlers - this is currently being planned. Details to follow via TeamApp.
CLUB ACTIVITIES
We'd love to see you at any of the informal Club gatherings and activities throughout the week:
Sunday Sips, 4pm each Sunday upstairs
Sunday afternoon running group at 4.15pm (run to Bondi and back)
group board paddle for qualified bronze medallion holders on Sunday afternoons at 4pm
Wednesday morning group swim at 6am outside North Bondi SLSC
pilates with Harries on Tuesday and Thursday mornings at 6am ($10 cash)
NIPPER TRAINING
Nipper training continues this week. We hope our new trainees are learning invaluable skills and building confidence.
Here are the details:
sand training: with Jordan Williams at Bronte - Wednesdays 3.45pm-5pm. Last training for the year was this week. Training will resume on Wednesday 29 January.
beginner boards for U9 and up: with Jo Mermaid at Bondi - Tuesdays 4.25pm-5.30pm. Last beginners board training for this year was this week and will resume when nippers goes back - keep your eye on TeamApp for details.
development squad boards: with Mackenzie Gavin - Tuesdays 4.25pm-5.30pm and Saturdays 1pm at Bondi. Last development squad training for this year will be Tuesday 17 December. Keep an eye on TeamApp for details of when training resumes.
competition squad boards: with Jason Gavin - Tuesdays 4.30pm-5.30pm at Bronte; Saturdays (time TBA via TeamApp) at Bronte. Participation in this squad is for nippers who wish to compete. Each session is 4km-5km. Please let Jason Gavin know if you're interested. Last training for the comp squad for this year will be Saturday 21 December. Training will resume on Saturday 4 January.
Friday fitness for girls U12-U14: with Gabi Betts - Fridays 6am-7am at Bronte.
Communication re sand training is via Bronte Nippers TeamApp. Communication regarding board training is via a separate TeamApp page: 'Bronte Board Trng'. Please request access to the groups relevant to you.

Training fees
There is a modest season flat-fee for any training of $150 per child. Training fees are payable now via this link: SLSA Online Payment Gateway
Please use the following:
Transaction Type: Other (from drop down list)
Description: nipper training for [full name of nipper]
Amount: $150