8th week @ Bronte Nippers
Tuesday, December 3, 2019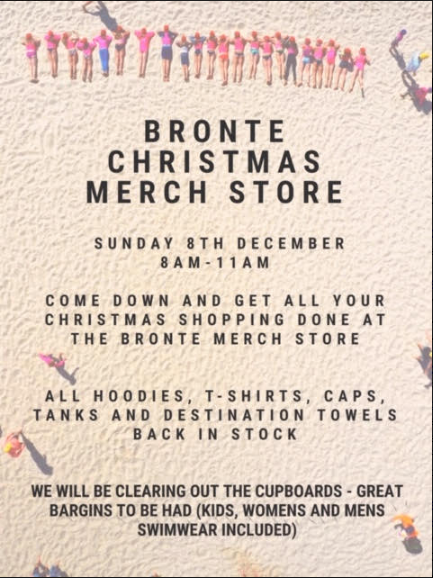 What a morning at the Bondi-to-Bronte Junior Ocean Swim!! Sunshine, reasonably calm surf, a terrific bunch of junior ocean swimmers and a wonderful community effort.
Congratulations to all of you who swam, especially to those who challenged themselves with their first ocean swim race or their first go at swimming a greater distance. You did yourselves proud!
Well done to our place getters:
400m Junior Ocean Swim
U9 boys: 1st Charlie Silvester, 2nd Oliver Wood, 3rd Charles Clark
U9 girls: 1st Jade Visch, 2nd Daire Nic Domhnaill, 3rd Sadie Eisenhower
U10 boys: 1st Rowan Metzl, 2nd Evan Rowbotham, 3rd Edgar Aidoud
U10 girls: 1st Maddy Innes, 2nd Ashleigh Aboud, 3rd Mae McLaughlin
800m Junior Ocean Swim
U11 boys: 1st Flynn Visch, 2nd Jack Wilkinson, 3rd Harrison Nixon
U11 girls: 1st Jaslyn Plummer, 2nd Tiana Karl, 3rd Alexandra Fasol
U12 boys: 1st Ethan Marten-Coney, 2nd Will Bull, 3rd Lachie Doble
U12 girls: 1st Jade Waaka, 2nd Ali Nairn, 3rd Charlie Bonne-O'Gorman
U13 boys: 1st Jaiden Marshall, 2nd Fred Carmody, 3rd Tristan Lee
U13 girls: 1st Lola Scotts, 2nd Freya Cleary, 3rd Natalie Freney
Results of the Bondi-to-Bronte are online for our U14s who took part in the big race this year. Congratulations everyone and big thanks to all our volunteers!
CONGRATULATIONS to Flynn Visch who won the 4 part Sydney Water Series. We are enormously proud of you Flynn!
BBQ DUTY
Normal nippers resumes this weekend. The following age groups are on BBQ duty:
U8 Girls: 8am-9.45am
U13 Girls: 9.45am-11am
OHANA SURF CLASSIC for U8-U14, Elouera SLSC this Saturday 7 December
Please let Victoria in the office know ASAP if you would like to enter this carnival: office@brontesurfclub.com.au. Entries close on Wednesday. We expect a large Bronte contingent - it's a terrific morning with lots of fun prizes. Let your age manager know if you enter so that team events can be arranged.
Remember that Bronte is obliged to provide water safety and officials based on entries. Please be prepared to volunteer on the day if your child enters.
BRONTE CHRISTMAS MERCHANDISE STORE, Sunday 8 December 8am-11am (see flyer below)
Merch Store this weekend (8am-11am) with lots of restocked items. Come down and pick up Christmas presents for the entire family (lots of destination towels - new designs available).
We will also have a table of older stock to clear - women's, girls and boys speedo swimwear (one piece and two pieces available $25 for women's, $20 for girls and $10 for boys in previous seasons styles).
If anyone would like to come down and help with the store on Sunday that would be great (please contact Clare Burrows clare@burrowsmail.com)
LAST DAY OF NIPPERS 2018, Sunday 15 December
Note the last day of nippers will be in 2 weekends time on Sunday 15 December. Santa will even stop by for a visit!
Nippers will resume on Sunday 19 January.
CLUB ACTIVITIES
We'd love to see you at any of the informal Club gatherings and activities throughout the week:
Sunday Sips, 4pm each Sunday upstairs
Sunday afternoon running group at 4.15pm (run to Bondi and back)
group board paddle for qualified bronze medallion holders on Sunday afternoons at 4pm
Wednesday morning group swim at 6am outside North Bondi SLSC
pilates with Harries on Tuesday and Thursday mornings at 6am ($10 cash)
NIPPER TRAINING
Nipper training continues this week. We hope our new trainees are learning invaluable skills and building confidence.
Here are the details:
sand training: with Jordan Williams at Bronte - Wednesdays 3.45pm-5pm. Last training for the year will be Wednesday 11 December.
beginner boards for U9 and up: with Jo Mermaid at Bondi - Tuesdays 4.25pm-5.30pm
development squad boards: with Mackenzie Gavin - Tuesdays 4.25pm-5.30pm and Saturdays 1pm at Bondi;
competition squad boards: with Jason Gavin - Tuesdays 4.30pm-5.30pm at Bronte; Saturdays (time TBA via TeamApp) at Bronte. Participation in this squad is for nippers who wish to compete. Each session is 4km-5km. Please let Jason Gavin know if you're interested.
stay tuned to TeamApp for details of holiday camps/programs.
Communication re sand training is via Bronte Nippers TeamApp. Communication regarding board training is via a separate TeamApp page: 'Bronte Board Trng'. Please request access to the groups relevant to you.