7th week @ Bronte Nippers
Tuesday, November 26, 2019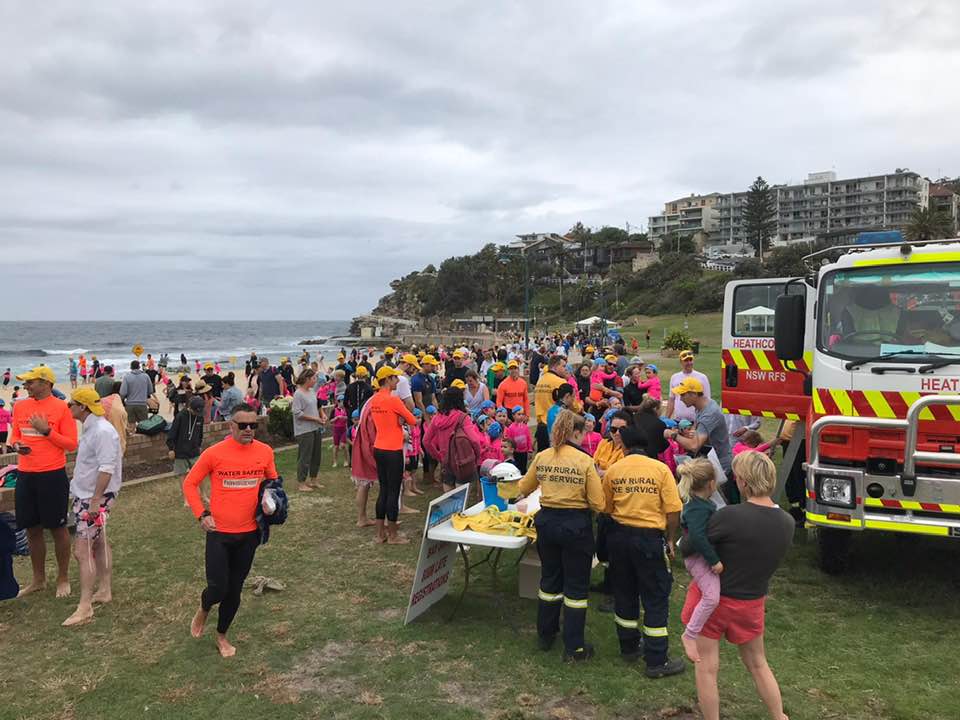 An action packed morning down at Bronte!
A big thanks to the Heathcote Rural Fire Service who brought down their fire truck and engaged with an eager bunch of kids. We raised over $3500 to support the RFS volunteer efforts. Thank you, Bronte Nippers!
We also successfully completed a calm and well managed mock-evacuation. Thank you to everyone who arranged it, and to everyone who took part.
Finally - a huge congratulations to all of the U14s who successfully completed their SRC assessments! It was a very positive morning for the group. Good luck to the 4 kids doing the assessment this coming weekend. We look forward to welcoming you all as patrollers and water safety in the weeks to come!
NO NIPPERS THIS SUNDAY - Bondi to Bronte Ocean Swim.
BONDI TO BRONTE JUNIOR OCEAN SWIM, at Bronte, this Sunday 1 December. Register from 7am-7.50am. Swim starts 8.30am sharp.
The iconic Bondi-to-Bronte is upon us! All U9-U13 nippers have an opportunity to compete in the Bondi-to-Bronte Junior Ocean Swim. We strongly encourage all Bronte families to get involved. Register now for $10 online, or $15 on the day.
There are 2 ocean swims for our nippers:
400m for U9-U13
800m for U11-U13
For more information, course maps and registration see: http://www.bonditobronte.com.au/junior-ocean-swim-event-information.html
It's a terrific morning. What's more, all Junior Ocean Swim entrants go in the running to win a Kracka fibreglass nipper board!
VOLUNTEERS NEEDED: BONDI TO BRONTE
The Bondi to Bronte is entirely dependent on volunteer power. It's an amazing event, lots of fun and a great community effort. Please sign up to assist in any way you can! Here is all the information you need: http://www.bonditobronte.com.au/b2b-ocean-swim-volunteers-2019
UPCOMING CARNIVALS
Ohana Surf Carnival at Elouera on Saturday 7 December. This carnival is often one of the best of the season. Lots of fun and loads of team events. Gather your mates and pop it in the diary.
North Cronulla Christmas Carnival at North Cronulla on Saturday 14 December.
Please let Victoria know if you would like to enter any of the above carnivals (office@brontesurfclub.com.au). As with all carnivals, our kids cannot participate without providing a quota of officials and water safety. Be prepared to volunteer if your nipper would like to join in. Sign up for the official's course now if you're in doubt!
CLUB ACTIVITIES
We'd love to see you at any of the informal Club gatherings and activities throughout the week:
Sunday Sips, 4pm each Sunday upstairs
Sunday afternoon running group at 4.15pm (run to Bondi and back)
group board paddle for qualified bronze medallion holders on Sunday afternoons at 4pm
Wednesday morning group swim at 6am outside North Bondi SLSC
pilates with Harries on Tuesday and Thursday mornings at 6am ($10 cash)
NIPPER TRAINING
Nipper training continues this week. We hope our new trainees are learning invaluable skills and building confidence.
Here are the details:
sand training: with Jordan Williams at Bronte - Wednesdays 3.45pm-5.15pm
beginner boards for U9 and up: with Jo Mermaid at Bondi - Tuesdays 4.25pm-5.30pm
development squad boards: with Mackenzie Gavin - Tuesdays 4.25pm-5.30pm and Saturdays (time TBA via TeamApp) at Bondi;
competition squad boards: with Jason Gavin - Tuesdays 4.30pm-5.30pm at Bronte; Saturdays (time TBA via TeamApp) at Bronte. Participation in this squad is at the discretion of Jason Gavin. It is for nippers who wish to compete. Each session is 4km-5km.
Communication re sand training is via Bronte Nippers TeamApp. Communication regarding board training is via a separate TeamApp page: 'Bronte Board Trng'. Please request access to the groups relevant to you.
Training fees
There is a modest season flat-fee for any training of $150 per child. Training fees are payable now via this link: SLSA Online Payment Gateway
Please use the following:
Transaction Type: Other (from drop down list)
Description: nipper training for [full name of nipper]
Amount: $150