4th Week @ Bronte Nippers
Tuesday, November 5, 2019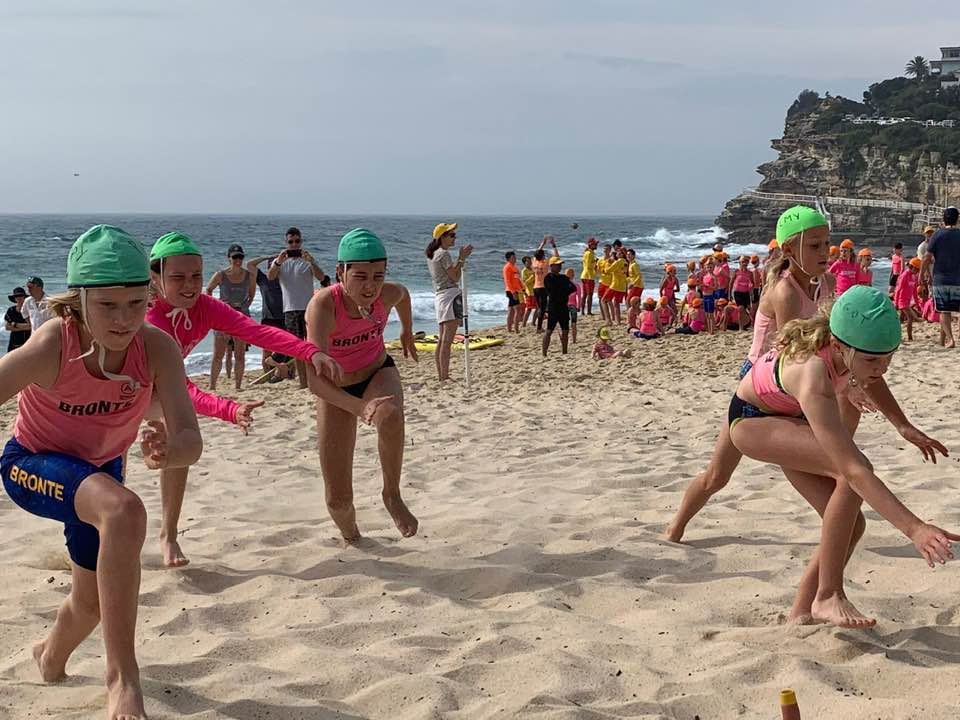 Congratulations to all our nippers who competed at club championships on Sunday! An exciting morning of sand events. We will run the water events, surf permitting, during normal nippers next week.
A special mention to our new nippers and the U8's who competed for the first time, and an enormous thank you to our age managers, officials, starters, water safety and parent helpers. Your fine efforts ensured the morning ran smoothly.
Our SRC group has been training hard every Sunday and will undertake their theory assessments this week. We wish them all the best!
BBQ
The Sunday morning BBQ is not just a treat for hungry nippers and parents, it is also a great fundraiser for the club. Each week we roster on two age groups to help out so if you're not water safety, please pitch in during your time-slot. Age groups allocated to BBQ duty his week are:
U6 girls: 8am-9.45am
U12 boys: 9.45am-11am
WAVERLEY SHIELD - ASSIGNED TASKS FOR EACH AGE GROUP - Sunday 17 November at North Bondi
The countdown is on! For our new nippers - the Waverley Shield is an annual carnival between the surf clubs of the Waverley Council area. It is a fun, friendly competition that gives participants a taste of competition. We encourage all U8-U14s to attend and as such, the carnival will replace normal nippers for those age groups.
We will need a lot of help on the day, particularly from the younger age groups who are competing first. Please look at the jobs assigned to your age group below and let your age manager know how you can assist. The tasks are modest. Please don't assume others will do them. We also have high quota requirements for both officials and water safety. Please sign up, as per recent communications.
U8
6.00am-7.30am: assist Col McDermid to set up U8 area.
During carnival: 6 dedicated 'parent helpers' are required from each of the girls and boys groups to assist Col.
11.00am-11.30am: pack up U8 area, including bringing 2 tents back to Bronte.
U9
6am: 6 parents required to set up the sprint track. Marc Braun will bring the bunting and guide the process.
10.30am: bring all Bronte foam boards from Water Area 1 back to Bronte trailer.
U10
2 volunteers are needed to pick up 2 tents from Bronte SLSC in the week prior to the carnival and transport them to North Bondi by 6.30am on the day. The tents are large. 1 tent per vehicle. They then need to be set up in the U8 area – 1 at the marshalling end, and 1 at the recording end.
10.30am: bring all Bronte foam boards from Water Area 2 back to trailer.
U11
1:00pm: bring all Bronte nipper boards from water area 1 back to trailer.
U12
1:00pm: 8 parents to pack up the sprint track at the end of the carnival.
U13
1:00pm: bring all Bronte boards from water area 2 back to trailer.
U14
Saturday afternoon: pack trailer at Bronte on Saturday afternoon [AT WHAT TIME], and unpack on Sunday afternoon.
1:00pm: bring all Bronte long boards from Water Area 1 back to trailer.
CRONULLA CARNIVAL, Saturday 16 November at Cronulla for U8 and above
This is a fun carnival for those seeking a warm up for the Waverley Shield! Entries are due by this Friday 8 November. Please let Victoria know if you would like to attend: office@brontesurfclub.com.au. Late entries are available on the day ($40). The obligation to provide water safety and officials goes hand-in-hand with entry. Be prepared to volunteer if your nipper would like to participate.
CLUB ACTIVITIES
We'd love to see you at any of the informal Club gatherings and activities throughout the week:
Sunday Sips, 4pm each Sunday upstairs
Sunday afternoon running group at 4.15pm (run to Bondi and back)
group board paddle for qualified bronze medallion holders on Sunday afternoons at 4pm
Wednesday morning group swim at 6am outside North Bondi SLSC
pilates with Harries on Tuesday and Thursday mornings at 6am ($10 cash)
NIPPER TRAINING
Nipper training continues this week. We hope our new trainees are learning invaluable skills and building confidence.
Here are the details:
sand training: with Jordan Williams at Bronte - Wednesdays 3.45pm-5.15pm
beginner boards for U9 and up: with Jo Mermaid at Bondi - Tuesdays 4.25pm-5.30pm
development squad boards: with Mackenzie Gavin - Tuesdays 4.25pm-5.30pm and Saturdays (time TBA via TeamApp) at Bondi;
competition squad boards: with Jason Gavin - Tuesdays 4.30pm-5.30pm at Bronte; Saturdays (time TBA via TeamApp) at Bronte. Participation in this squad is at the discretion of Jason Gavin. It is for nippers who wish to compete. Each session is 4km-5km.
Communication re sand training is via Bronte Nippers TeamApp. Communication regarding board training is via a separate TeamApp page: 'Bronte Board Trng'. Please request access to the groups relevant to you.
Boards - purchasing
All nippers who participate in board training need to purchase their own board. Fibreglass boards are categorised by weight. When purchasing a fibreglass board, aim for your child's weight + approximately 5kg. For example, if your child is 38kg, purchase a 45kg board. If they are in U11 and need the board to last 2 years, you may consider a 50kg board. Board brands include: Kracka, JM and Bennett.
Secondhand boards: there are plenty of second hand boards available on Gear Trade. There is also a facebook page named 'Second Hand Surf Craft, Surf Only' which advertises boards.
Bronte board buy-back scheme: the Club offers a buy-back scheme for foam boards. This means you can sell your foam board back to the club for $350 after 1 year, and for $250 after 2 years if it is in good condition. The Club may also buy back fibreglass boards at market value.
Board rental: our strong preference is for nippers to purchase their own boards. There are a limited number of boards available to rent for $100 per season. You must join a training group and return the board for nippers every Sunday. Please see Craig Betts on Sunday morning to arrange.
Training fees
There is a modest season flat-fee for any training of $150 per child. Training fees are payable now via this link: SLSA Online Payment Gateway
Please use the following:
Transaction Type: Other (from drop down list)
Description: nipper training for [full name of nipper]
Amount: $150