10th Week @ Bronte Nippers
Tuesday, January 21, 2020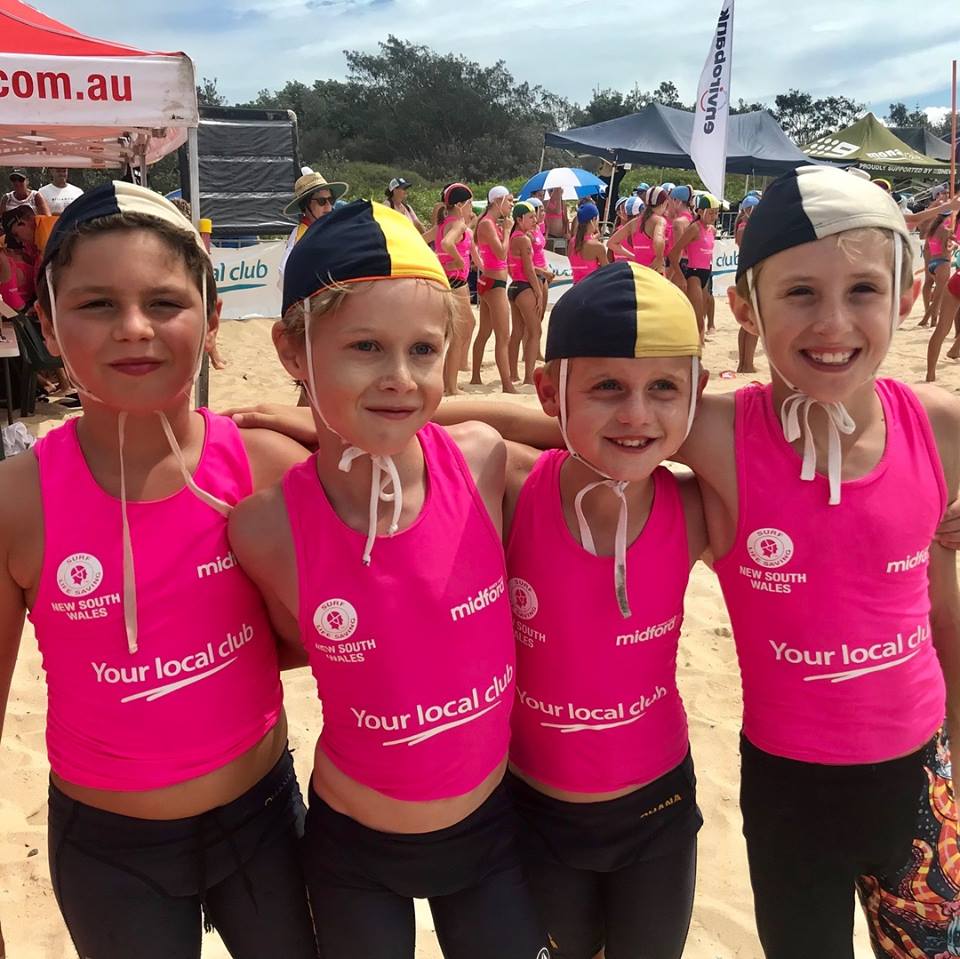 Welcome back to nippers - we hope you had a terrific summer break!! Sunday saw a great start to 2020 nippers with most groups getting plenty of water time, Waverley Council's Summerama in full swing on the grass, and Dr Rip releasing purple dye into the water to demonstrate the rip pattern.
Nippers is ON this coming Australia Day weekend.
Finally - competition season for U8 and above is coming to a head:
Club Champs round 2 for U9-U14: 2 February
Sydney Branch Carnival for U8: 2 February at Maroubra
Club Champs round 2 for U8: 9 February
Sydney Branch Carnival for U9-U14: 9 February at Maroubra
State Championships for U9-U14: Friday 28 February - Sunday 1 March at Swansea
Please read details relevant to you below.
BBQ
The following groups are responsible for running the BBQ this weekend:
U9 boys: 8am-9.45am
U11 boys: 9.45am-11am
CLUB CHAMPIONSHIPS U9-U14, Sunday 2 February, 8am
Round 2 of Club Championships will take place on Sunday 2 February. Club Champs commences at 8am for all nippers from U9 and above and will go for at least 2 hours. We'll need a full contingent of water safety, officials and parent volunteers to assist. Results from both rounds will be collated to determine places.
CLUB CHAMPIONSHIPS U8, Sunday 9 February, 9am
With the Sydney Branch U8 Carnival scheduled on Sunday 2 February, U8 will run their Club Champs events on Sunday 9 February during normal nippers at 9am. Col McDermid will oversee the races, but with most of our officials assisting at the Sydney Branch U9-U14 Carnival, could all parents please be prepared to assist.
SYDNEY BRANCH U8 CARNIVAL, Maroubra, Sunday 2 February
This year, Sydney Branch is running a carnival specifically for the U8 age group to allow them to compete against the U8's of the 15 Sydney Branch clubs. It should be a lot of fun, and we encourage all U8 nippers to attend. The carnival will replace normal nippers for U8 on Sunday 2 February. Please let your age managers know if your child would like to compete.
SYDNEY BRANCH CARNIVAL U9-U14, Maroubra, Sunday 9 February
The Sydney Branch Carnival is a competition between the 15 clubs of Sydney Branch (from North Bondi to Wanda). It's a terrific morning of competition with plenty of team events and we would like to see a large Bronte contingent represented. For this reason, the Carnival will replace normal nippers on the 9th for U9-U14. Entries are due so let your age manager know ASAP if you would like to compete. Note that 3 pre-qualifying events for State will be run at this Carnival: all age board relay, ironperson and board rescue. Please see the program under 'documents' on Bronte TeamApp.
Scrutineering of fibreglass boards: if your nipper is attending State, their board needs to be 'scrutineered' (checked, weighed and RED assessment sticker applied). There will be a board scrutineer at the Branch carnival from 7.30am. This is compulsory and the last opportunity to do so before State. The red stickers replace the black and white stickers of last season.
STATE CHAMPIONSHIPS, Swansea Belmont SLSC, 28 February - 1 March
The countdown is on! Entries to the nipper State Championships are now due so let your age manager know ASAP if you plan to come. Please also join the "State Team 2020" group on the Bronte Nippers TeamApp. State Champs is open to all U9-U14 nippers and with the exception of a couple of events, no pre-qualifying is required. It's a fantastic long weekend away with club families and a great opportunity to meet nippers from all over NSW. Keep in mind that State Championships is highly competitive and for that reason, we encourage only those who train regularly to attend.
Events: The latest program is under 'documents' on Bronte TeamApp. Although subject to change, individual events are generally run on Friday with finals on Sunday. Team events are run on Saturday. Teams are decided by age managers and coaches, based on results from Club Championships, other carnivals, and training. Speak to your age manager with any team queries.
Accommodation: State Champs attracts thousands of nippers and we strongly suggest you book accommodation nearby as soon as possible. Note that a large Bronte contingent will stay at the Apollo International Hotel in Charlestown and there will be a group dinner there on the Saturday evening.
Parent involvement: as with all carnivals, State Champs is volunteer-run. Bronte is required to provide a quota of water safety, officials and first aid. As a team, we also need assistance with tent set up, transporting boards and looking after nippers whose parents are volunteering. Be prepared to pitch in.
CLUB ACTIVITIES
We'd love to see you at any of the informal Club gatherings and activities throughout the week:
Sunday Sips, 4pm each Sunday upstairs
Sunday afternoon running group at 4.15pm (run to Bondi and back)
group board paddle for qualified bronze medallion holders on Sunday afternoons at 4pm
Wednesday morning group swim at 6am outside North Bondi SLSC
pilates with Harries on Tuesday and Friday mornings at 6am ($10 cash)
NIPPER TRAINING
With 3 weeks to go before Branch, ensure you get to as much nipper training as you can!
Here are the details:
sand training: with Jordan Williams at Bronte - Wednesdays 3.45pm-5pm. Training resumes on Wednesday 29 January.
beginner boards for U9 and up: with Jo Mermaid at Bondi - Tuesdays 4.25pm-5.30pm. Training resumes on 28 January.
development squad boards: with Mackenzie Gavin - Tuesdays 4.25pm-5.30pm and Saturdays 1pm at Bondi.
competition squad boards: with Jason Gavin - Tuesdays 4.30pm-5.30pm at Bronte; Thursdays 5.30am-7am at Bronte; Saturdays (time TBA via TeamApp) at Bronte. Participation in this squad is for nippers who wish to compete. Each session is 4km-5km. Please let Jason Gavin know if you're interested.
Friday fitness for girls U12-U14: with Gabi Betts - Fridays 6am-7am at Bronte. Training resumes on 31 January.
Communication re sand training is via Bronte Nippers TeamApp. Communication regarding board training is via a separate TeamApp page: 'Bronte Board Trng'. Please request access to the groups relevant to you.
Training fees
There is a modest season flat-fee for any training of $150 per child. Training fees are payable now via this link: SLSA Online Payment Gateway
Please use the following:
Transaction Type: Other (from drop down list)
Description: nipper training for [full name of nipper]
Amount: $150
BUSHFIRE RELIEF FUNDRAISER, Friday 7 February, 7pm-midnight
The planned Surf Club Summer Party is now a Bushfire Relief Fundraiser with proceeds going to Red Cross and Wires! Please see details and purchase your tickets here: https://brontesurfclub.com.au/events-at-bronte/bronte-luau